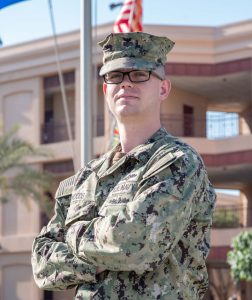 NAVAL SUPPORT ACTIVITY BAHRAIN Petty Officer 1st Class Kevin Woods, a North Baltimore, Ohio, native, always knew the military was what he wanted to do, but wasn't sure of which branch to join.
Now, seven years later and half a world away at Naval Support Activity Bahrain, Woods serves at U.S. Naval Forces Central Command (NAVCENT) / U.S. 5th fleet.
The operational tempo here is very high, but it's a mission that has to be completed every day, said Woods.
Woods, a 2011 graduate of North Baltimore High school, is an information systems technician at U.S. 5th Fleet, headquartered in Manama, Bahrain.